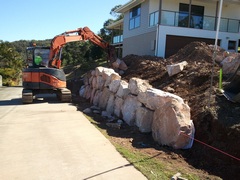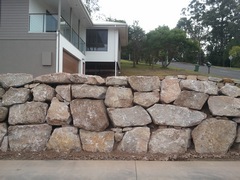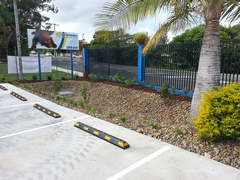 Using Boulder Rock Retaining walls throughout your landscaped gardens is a beautiful and natural way to create a variety of usable outdoor spaces and create stunning visual landscaping.
The use of natural sandstone walls or strategically placed bush rocks,and the experience and expertise of Concrete Controls Landscape artists, will undoubtedly add value to your home.
We have a highly experienced range of contractors for residential and commercial landscape projects, who provide an excellent service.
Our services
We offer a wide range of services to all areas. See us for
Retaining walls
Boulder Walls
Rock Walls
Planting
Turfing
Mulching
Drainage Solutions
Bio retention Basins
Post Holes
Water Tanks
Irrigation
Site Clearing
Earth Moving
Trenching
Levelling
Fencing
Security / Safety Bollards
Wheel Stops
Our team will work with you to create fantastic gardens and exciting landscapes. Our experienced team can organise and carry out work with in clients' budgets and needs, making your property look great for years to come.
Our landscaping team
Our team of fully licenced landscaping contractors are reliable, experienced, and provide cost-effective results. We pride ourselves on our strong work ethic. Whether yours is a commercial or residential property, trust our team to provide you with first-class results.
Landscape Concreting Brisbane | Landscape Concreter Brisbane | Landscape Concreters Sunshine Coast
Call us on 0416 202044
'BIG OR SMALL WE POUR THEM ALL"